Loot: May
by
honeysuck_elle
featuring a
black skirt
ASOS | ASOS CURVE Exclusive Rose Print Cami at ASOS
asos.com
Ello, ello. I have no idea why I am up so early but nonetheless, cannot sleep so I figured "post time, post time".
Things have been kind of up and down, mostly my moods have been up and down. Cinco De Mayo was not very memorable because for the life of me I cannot recall what I did that weekend. I know my fiance and I saw 'Thor' which I enjoyed thoroughly. I know I went a little nuts and ordered too much stuff online (as you can see above), and that is far at the memory goes. There was another trip to Pinkberry? It is all slowly coming back to me - the amnesia is wearing off - now back to my soap opera scheming. I'm kidding, of course.... or am I? Dun dun dun.
Onto the loot! The ASOS top I ordered kinda on a whim, I had an extremely positive experience with ASOS with my last purchase of the gorgeous maxi dress and although the shipping wasn't lightning speed fast like last time (it was standard shipping so no real complaints), I am quite pleased. I tried on the top briefly but not enough to make a full review, it definitely is pretty and perfect for Spring. ASOS has the most sumptuous
things.
The New Look top is quite cute and again for some stupid reason I have not fully tried it on, I thought it would be a cute top I could dress up or down for casual occasions or nights out. I have a hunch it will flatter my girls, the shipping time was standard and it definitely appears to be (try it on, my god Rachel) true to how it appeared online.
My Forever 21 experience, are they not calling it Faith 21 anymore? Anyway the lace skirt is to die for, I'm so scared to let my cats anywhere near my closet because they showed an avid interest in getting next to it. It's quite delicate and absolutely gorgeous! Fits well and I just love it. I also ordered a yellowish tank top, my fiance abhors yellow so he growled at it a little when I showed him it. The pocket watch necklace is really quite stunning in person, the length is perfect and I love the etching on the outside. It was even set to EST time when it arrived to me. I couldn't be happier with my purchases from Forever 21.
Alight, however, I have to say I was a bit disappointed. The two cardigans are the exact same size and the exact same cardigan just different colors but they fit differently. One feels smaller than the other and the black one came with a string hanging off the hem. I like the style of the cardigans but both are a little too small for my liking and a little cheaply made. I'm debating whether to exchange them for a bigger size or just return them all together. Not to mention, they were a bit pricey, which I was not a fan of. The satin skirt is okay, although doesn't really fit like I thought it would, it is a lot shorter (a little below knee, which is fine but not as shown but then again I am quite tall at 5'9") and the fit is a lot different than shown (more form fitting than flowy). I'm keeping the skirt but I'm a little disappointed with it. Overall, I don't think I will be ordering from them again. All the clothes seemed to be cheaply made and overpriced.
I had a little buyers remorse after all that. I should have paced myself. I've been a little unsatisfied with my job as of the last two or so weeks and I think it has caused me to want to shop a little more.
The following week, I took a half day on Thursday to drive up to Maryland to get my license renewed. Long boring story for why I have to do that. Called my friend Row and we went to a late lunch at Common Market where we had many giggles over absolutely amazing wraps! I swear, it was the best wrap I've ever had. It was a brown rice tortilla with chicken, spinach, tomatoes, swiss cheese, and a parmesan basil spread. Nommy, nom, nom! I can't wait to go back for more, I'm sorry I didn't take pictures because it was that good. Drool, droool!
Afterwards I drove over to Barnes and Noble to meet up with Summer. We also had many a giggle. I finally, since I have literally been wanting to do this since I was 10 years old, got a second piercing in my ear. I didn't really think about it, just talked about it for a minute or two and decided - I'm going to do it. Of course, I had to be a smart ass the entire time - "Am I going to die?", "So uh, what happens if my ear falls off?", "Do you have any formal training, huhuhuh?" - it was all in good fun and meant in humor, she was laughing - some of the time. She asked me if I wanted a countdown and I, brave and strong, said "Just do it. Nike" and then I asked for a lollipop when it was all over. I'm quite pleased with it, and pleased with my spontaneity. If only I could put that spontaneous energy to good use. It is lame that it took me this long to do it but at least, I finally did it. Now what else can I pierce, hmm...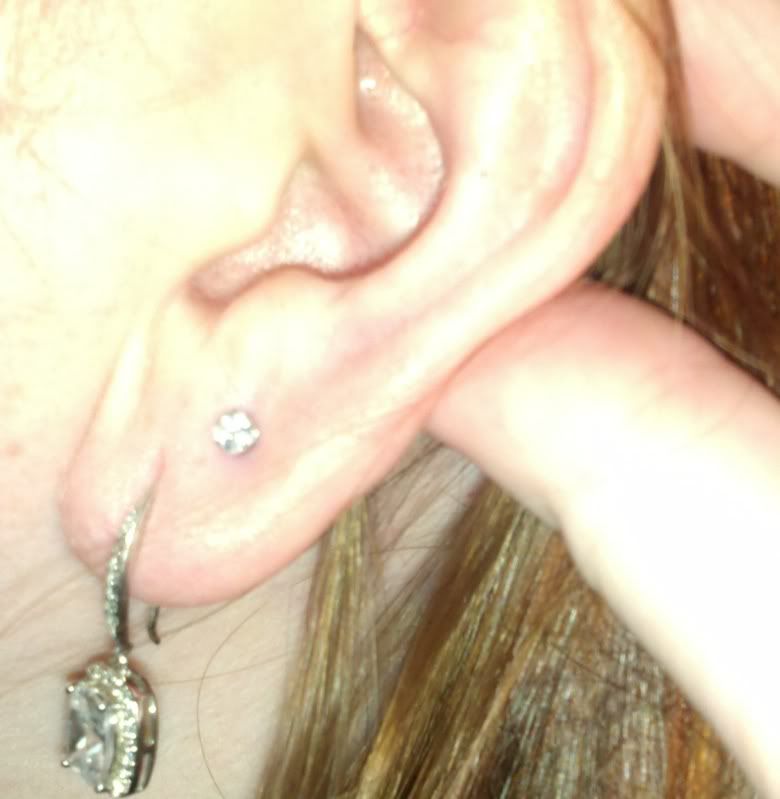 I look like I have some side burns goin on' or something, the fan was blowing my hair all around.
I also bought a few other things, which I took a picture of (below). The pocket watch necklace snuck itself in -friggin attention hog.
Afterwards, Summer and I went to Uno's for dinner and Roy Rogers for dessert (mmm strawberry shortcake). We finally had to close ship when it was past our bed times and I drove home absolutely exhausted.
Oh my I almost forgot to mention, I saw a friggin vulture on the way to the MVA. It was just perched casually, ya know, hanging out on a fence along the scenic route 15. When I first spotted it I thought it was a decoration because that sucker was big, I've never seen one that close up. It didn't have a red face so it actually wasn't a turkey vulture but it definitely was a vulture. I actually yelled out to myself in the car "HOLY BIG BIRD BATMAN." Then I had to feel sad wondering whose death it was awaiting. I wish I had been going slow enough to take a picture of him.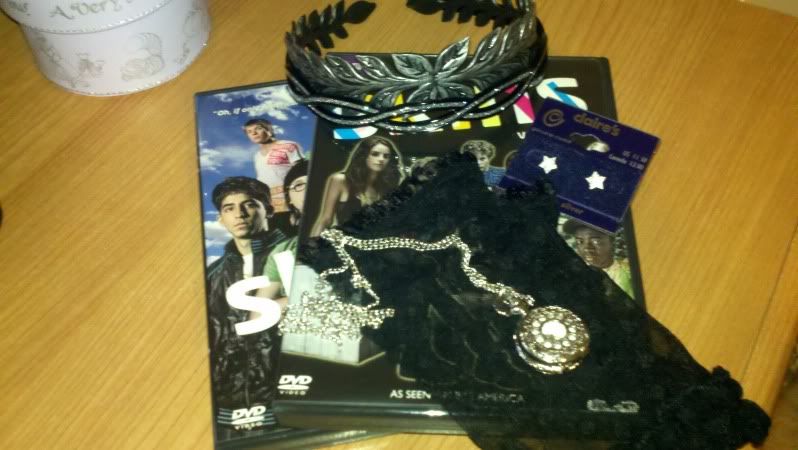 God, I never shut up. Anyway onto picture I mentioned of more loot (shopping addict, shopping addict - seek help). I got these fingerless gloves with a heart print (for Goth Prom that Summer and I are hopefully attending next week, I never went to my prom because well, I probably would have preferred to have my molars extracted. I didn't really care for the majority of people I went to high school with), fuzzy cat ears, two headbands - one in a leaf like Roman style, and the other with glitter (yay for glitter), star studs to replace these when my 6 weeks are up, and Skins Seasons 2 and 3. I had a little checkout drama but it is all somewhat sorted.
I feel like there is more I'm leaving out but I believe that is it. Thursday was full of merriment. The weekend was a lazy one, tackled with Costco crowds and did many a nap. Watched 'Piranha' and caught up on 'The Borgias' and 'Game of Thrones'.
I'm sadly, going to be slowing down on the shopping for a long while, I've been going a bit overboard. I hope you'll understand, it's not you, it's me and my lack of funds. I almost typed funk, it is my lack of funk, James Brown would be so disappointed. BUT anywho, I've said enough, enjoy the rest of your week everyone.
Favorite Blogs


Blog Archive