Friday, April 15, 2011
Has it really been two full weeks since I last posted? It doesn't feel like it. I've been working a lot and been struggling with consistent knee pain, I hurt my knee a few years ago and it has not been the same since. It has been absolutely horrendous for the last few weeks. Today especially I've been limping around all day, it feels like there is fluid all around my knee cap and it limits my mobility. I really hope it goes away soon, regular pain reliever is not helping at all. My benefits don't kick in till mid June and I don't want to pay out of pocket to go to a Doctor - I may have to but I don't want to. It's been making me feel very lethargic and irritable :(
Anyway, enough complaining, there has been some shopping to report so I have to share. I'm very into stripes lately, I got a striped shirt and a striped tunic I wore with leggings as a dress the one day. I have pictures, still no outfits of the day, I sowwie! I'm a dirty promise breaker, will I haven't really put a deadline on the promise it just has not happened... yet. Onto the show:
Got this cute owl ring for something like $8. The skeleton pajama pants in the background I got as well, they are a bit ridiculous but made of very comfortable material and were only $1.99.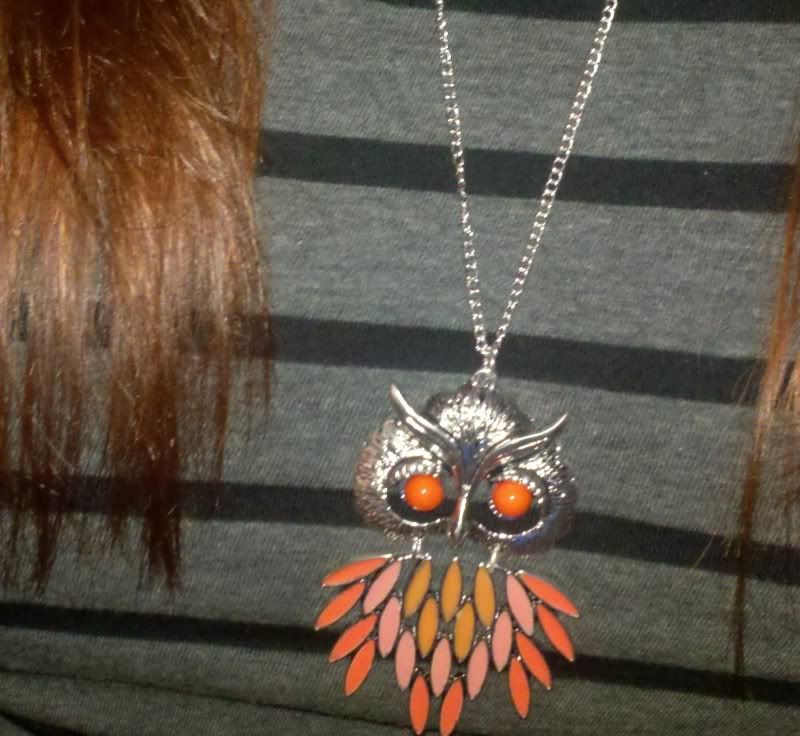 One of the striped shirts I mentioned, I've worn about 4 times already, it is so comfy. New owl necklace. I like its little orange candy like eyes.
Dessert from Bertucci's two weekends ago. My boyfriend got the chocolate mousse in the back and I got the chocolate hazelnut crostata- go get one! Good enough to chop a limb off for (maybe not, but dayum good. Dayumm good? YES. DAMN good).


At the top are some other new things, the perfume is Pink Sugar by Aquolina, which is well known and rightly so because my goats does it smell good! I absolutely love it. I love how I can smell it on me all day. It was a present from my Mom for my upcoming birthday. The Bath and Body Works goodies are absolutely to die for hand soaps in fresh picked cherry and fresh picked strawberry, they smell heavenly. I found a leather jacket from Target for $39.99, well its fake leather, I haven't even checked the label to see what the material it is - it's just cute. I'm happy to report that I tried on the 3x and it was way too big (you can never quite tell with jackets), the 2x fit but was a bit big (ended up buying the 2x but not sure if I should have), and when I showed my boyfriend he said "shoulda bought the 14/16, it looks too big". I also bought from
"Tarjay"
some black linen pants which are so damn comfortable (also had to go down a size, woohoo), and a gray cardigan.
So the
Pinkberry
I was telling you about - I went - I was taken back by the flavor of the original for about um 2 seconds and then nom, nom, nom set in. I've been twice already, seriously considering going today but it's a Friday and everyone and their cousin will be in that vicinity. Bah, crowds. The boyfriend was not a fan of Pinkberry, he turned his nose up after taking a sample.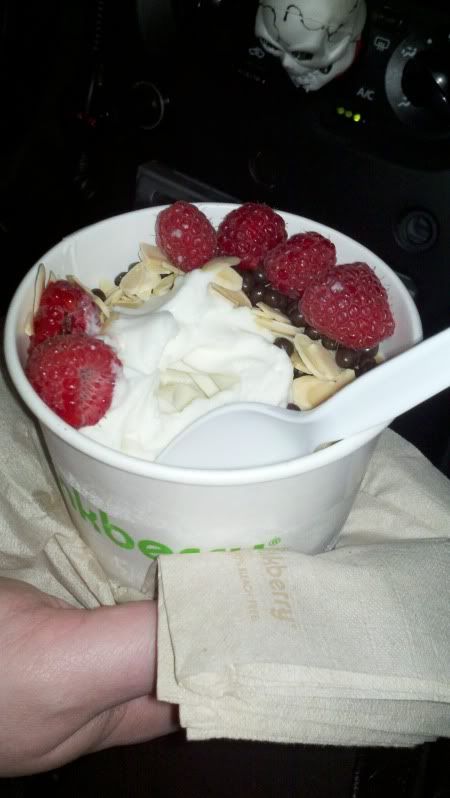 Original flavor with raspberries, almonds, and chocolate crisps.
Last weekend I had a girls day with my best friend Row and her daughter, Megan which turned into the boyfriend coming along too but he was so out of it that day it was still basically a girls day. We had Mexican food, I yelled inappropriate things in the restaurant, we walked about the mall and I coveted Smurf shirts and a panda hat, and then we hung out in a park in Frederick on a lovely day. It twas a good time.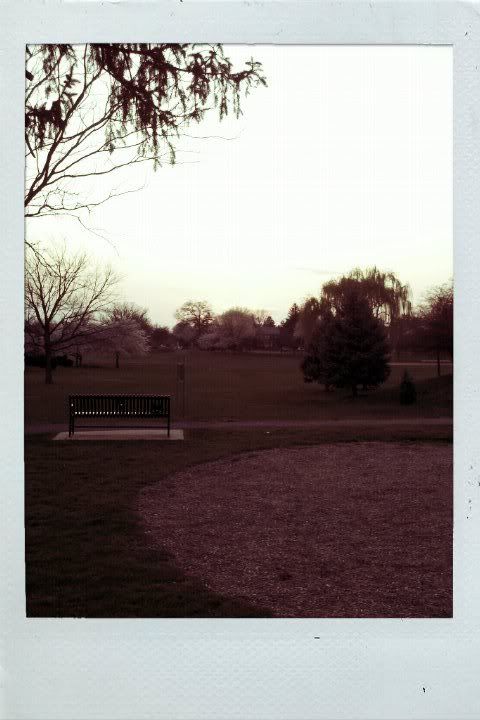 I'm a bit boring this entry, I've been distracted as I said by zi pain (
"zi plane?"
no, zi pain), work,
and work annoyances.
This weekend should be good (hopey pope hope it's good), I'm going to a wine tasting with my friend, Summer tomorrow. Then on Sunday we are going exploring with our friends Laurie, Jason, Lisa, Troy, and of course my Monkey.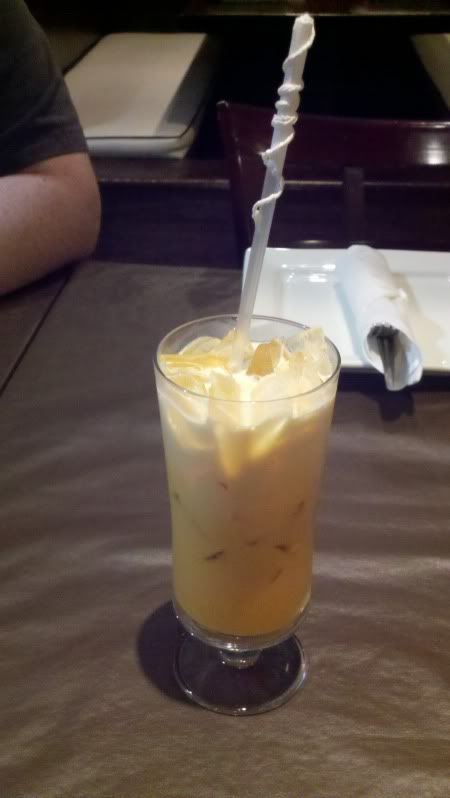 Thai iced tea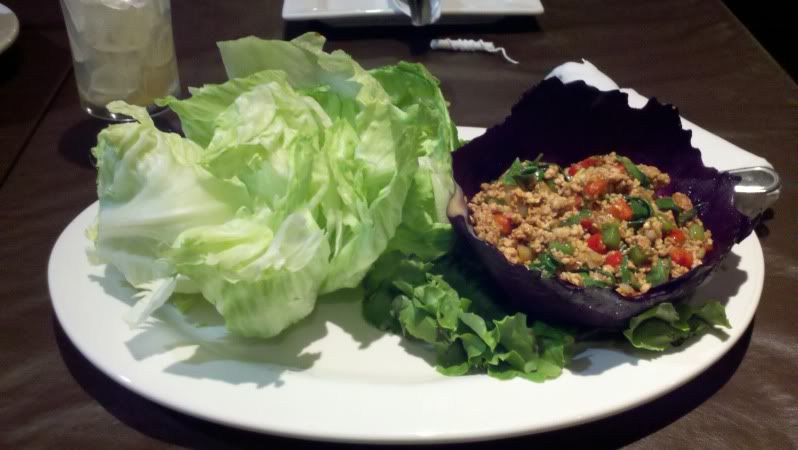 Basil wrap. One of my favorite meals ever. Had this on Tuesday or was it Monday.
So I wish merry weekend times. I leave you with my usual sign off.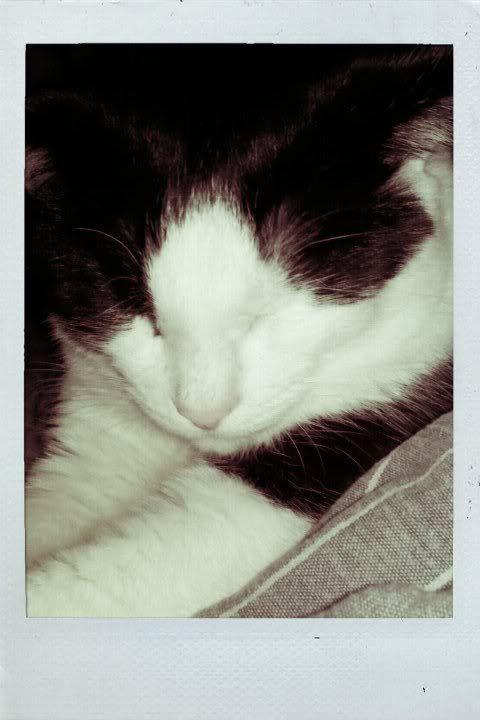 Favorite Blogs


Blog Archive