Thursday, March 10, 2011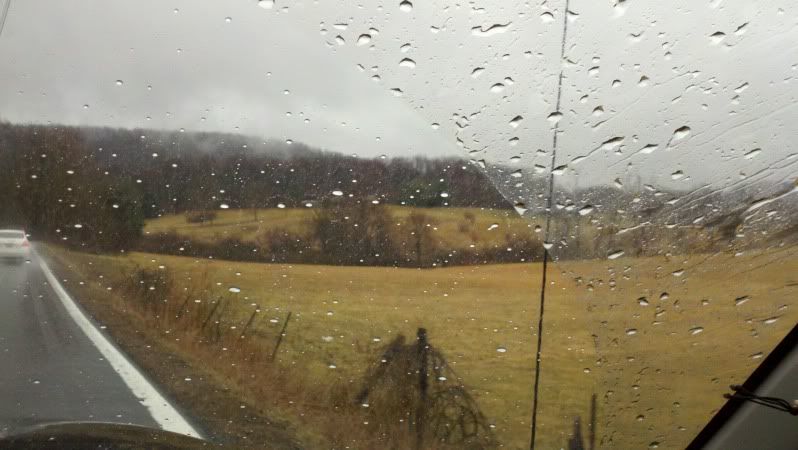 I had such a good weekend, it was very
macaroni
- which I learned this weekend means "cool", "the shit", "awesome sauce", or at least it did during the time of Yankee Doodle Dandy? Anyway I thought I'd share that special information with you.
On Friday, I had a job interview for an Office Assistant position which is literally 3 minutes away from where we live currently, the interview seemed to go really well and I had a very natural rapport with the women of the office. After the interview, I stood around for a bit and we all chatted, the one woman who worked there told me "I'm really glad I was working today (she is a retiree that had been with the company for 20+ years and only comes in occasionally) and got to meet you!."
They said they would make their decision on Monday BUT on Monday I got a call from the office manager who told me that they really like me but they still want to finish up interviews during this week and come up with a decision the following Monday so we shall see. I think it is good news that they called me on Monday to give me a heads up and ask me to please notify them of any changes of my own
but
also bad news because they didn't want to quite commit on offering me the job without interviewing some more people. Honestly, I have been on so many interviews and had so much up and down that I don't let it get to me too much anymore, for a time I would take any rejection really hard so now I try to not let it effect me too much. I did my best and hopefully they will choose me but if not, I'll keep looking.
After the interview I decided to wonder around Homegoods and found some really cute china bowls, a black striped oven mitten, blackberry jam, and an issue of Food Network magazine with a full Italian food edition. I can't wait to try out the recipes! I honestly love to cook, I just don't like doing it much here. I'm busting at the seems with excitement over the house stuff coming together (slowly). I cannot wait to be in our own place. We have made slight progress on the house front but it is moving at a snail's pace- bah, go faster!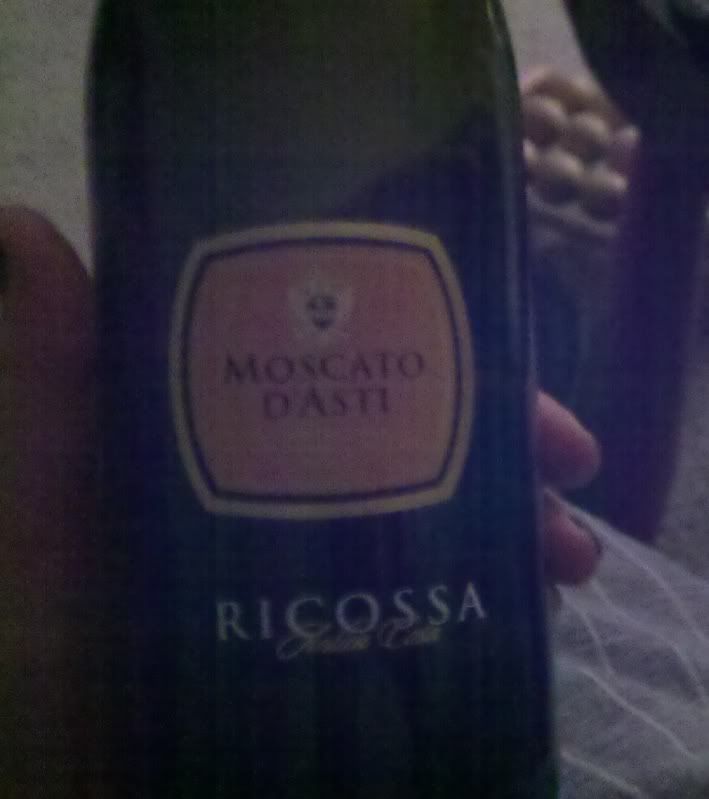 sorry, such a craptastic picture.
On Saturday, I laid low, hung around the house and ended up talking to my roommate Dawn, for hours. I mean, HOURS, we shared a bottle of absolutely amazing
moscato
wine I found from World Market and talked a total of er.. 14.5 hours. She is a cool chick and it is really nice to have a roommate to talk to. Obviously, I like my talking time, that has been the case since I've had the ability to talk. I was always the kid put in the corner in Kindergarten - I would just talk to people from the corner.
On Sunday, Jason and I visited our friend Row and her awesome teen-aged children, Megan and Cody. I love them so much, they're like a second family. We went to dinner at a local Mexican food restaurant and got a little hyper. Plenty of jokes told by all, I knocked over a chair at one point while telling a story. It was good times, I'm not sure if the staff felt the same way because we were being super boisterous. Afterward we joked around in the car a bit where I hit my head and Cody did amusing voices, oh and I pretended to make biting gestures at Row. Then we went to Walmart and goofed off there as well, had to give Cody a hard time because some girls he goes to school with were outside selling girl scout cookies and they
really
wanted him to buy their cookies, of course we (mainly me) had to give him a hard time about that. Tried to get my boyfriend to buy tiny man panties and I made boob impressions on the iced over freezer doors.
I'm a little nuts, what can I say
?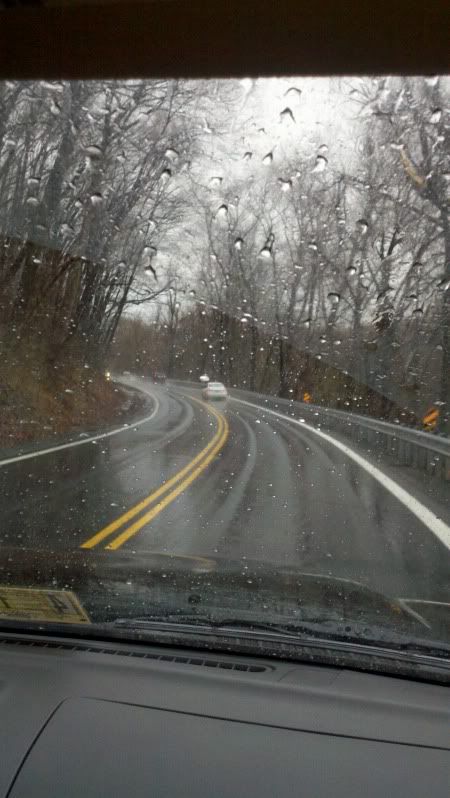 Then we went back to their place and watched
'Megamind
' which was hysterical, if you have not seen it, it comes highly recommended. The pictures above (and at the top) are my effort, again to show how pretty the view is on the way to Frederick but it was raining all day.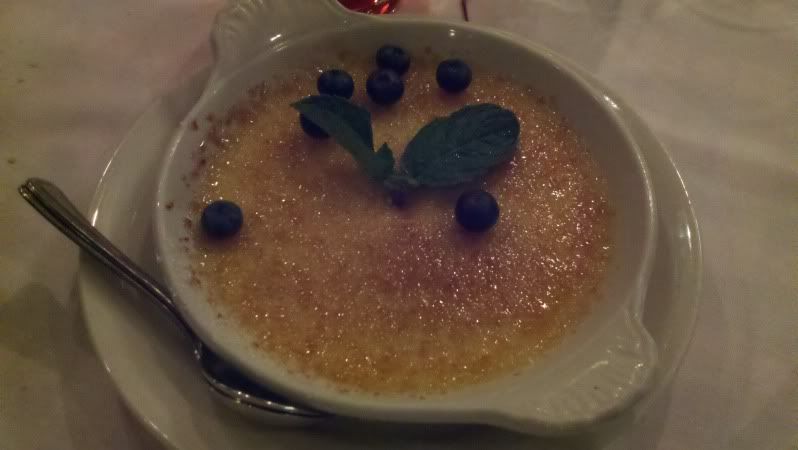 Maggiano's Creme Burlee: The Sequel, Delicious strikes again.
On Monday, my fiance and I went to
Maggiano's
and ate entirely too much but the food was delicious as always. They give you so much food, I ordered the braised beef cannelloni and it was basically half a cow with a thin layer of pasta. Nomnom. I was goofing off there as well, I can't even remember half of the stuff I joke about, I just remember excessive laughter. I think I was doing impressions of my Dad, who is a trip.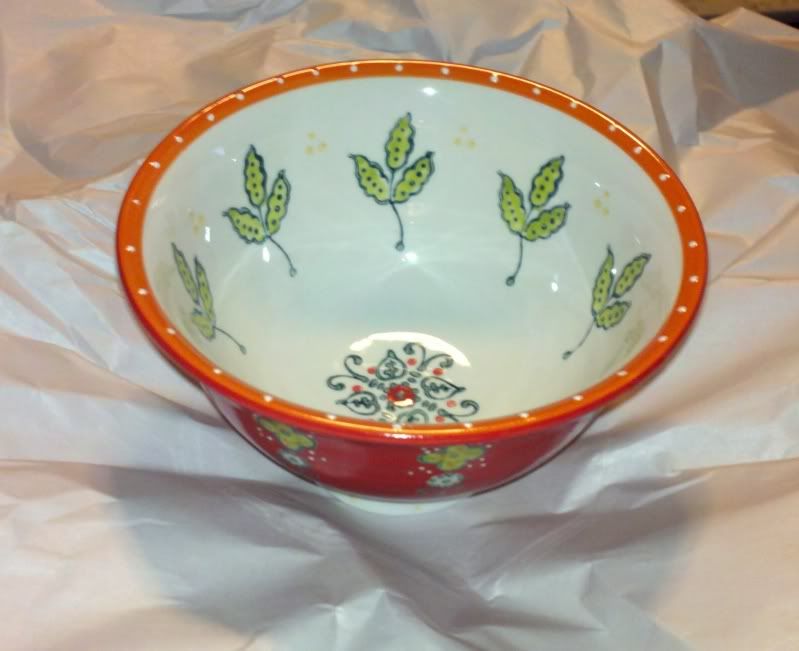 While on a search for the Lush store (found out it closed in January *sad face*) I wondered into
Anthropologie
to look at the housewares. I love Anthropologie but really cannot afford it, I assume I'm too big for their clothes, I think I tried on a dress years ago but put it back. Mistake! Anyway I always drool over there excessively girly housewares and somehow convinced my fiance to buy me two orange (My fiance hates the color orange) bowls. It was a bowl buyin' sorta weekend, apparently.
I would absolutely love to fill my kitchen with mismatched bowls, plates, and teacups of all different sizes and colors. That is my fantasy! My fiance doesn't understand it, I don't think it is a typical guy worry -
"I must, just must, have nice dishes Stan."
After Anthropologie we met Darrell, Alexia, and Nando in Tyson's and then went to McDonald's. Decided we should start a country and call it Funkland but then Nando got kicked out of the country and kicked off the trade route and now apparently will be off on his own in Nandistan. Then saw
'Rango'
which was good fun.
On Tuesday, my fiance and I took his father to dinner for his birthday. Went to Uncle Julio's which was very crowded and the food was extremely disappointing. I wasn't a fan but it was really nice to get his Dad out of the house and hear his raccoon stories. Raccoon stories? W-tee-F you say, well his Dad likes to feed local raccoons.
Ooh I ordered these studded black booties that I'm super excited about, I will share pictures once they arrive. As my usual sign off...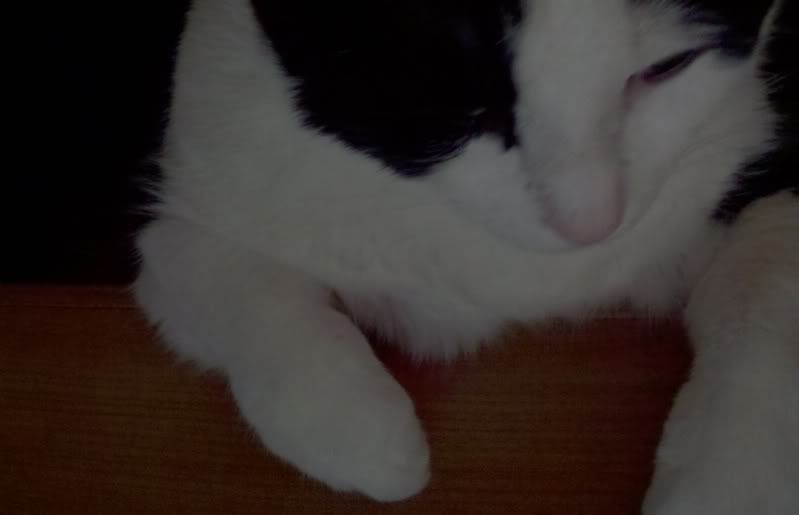 Iz at your compoter, looking up ways to defeat the Raccoon!
Favorite Blogs


Blog Archive