Wednesday, March 2, 2011
Ello', another weekend has come and gone. I personally (I think this sentiment is shared by many) live for the weekends. Especially with being unemployed, my week days are usually spent doing chores and looking for jobs, which are not exactly fun.
China Legend, Jade Chicken at top and Chicken with Broccoli
Saturday night my fiance and I went to a local restaurant and after we did some light packing and drove up to my Moms.
On Sunday, my fiance and I went to Ellicott City in search for this restaurant that he was raving about that has really good Chinese food. The food was amazing, good Chinese food is so hard to come by and I was not at all disappointed. After eating we decided to walk up to gates of
The Enchanted Forest
which has been abandoned since 1995. I went to it once as a kid but I don't really remember it, it was basically an amusement park for small children with fairy tale and story book settings. Now that it is abandoned it just seems like the perfect back drop for a horror film or photo shoot. Well we approached the gates to take a peek in and noticed that the lock was missing from the gate. I was wearing flip flops, not exactly the best thing to be wearing while
exploring
trespassing, but as my fiance had his back turned I decided to scurry in. I just thought what the hell, I've always wanted to go in and now I had my chance. From what I've read restoration and preservation societies have taken a lot of the buildings and figures off the original site so there wasn't much left. The last time I had peeked (didn't go in) there seemed to be a lot more figures and buildings still there.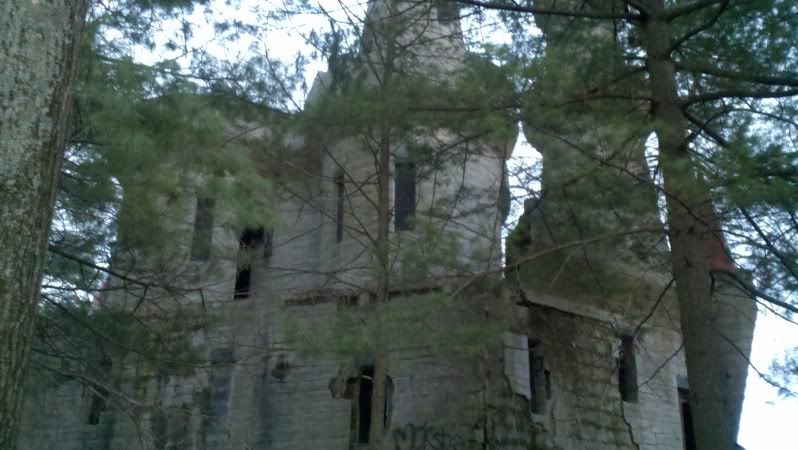 I believe this was the Cinderella castle.
Front Gate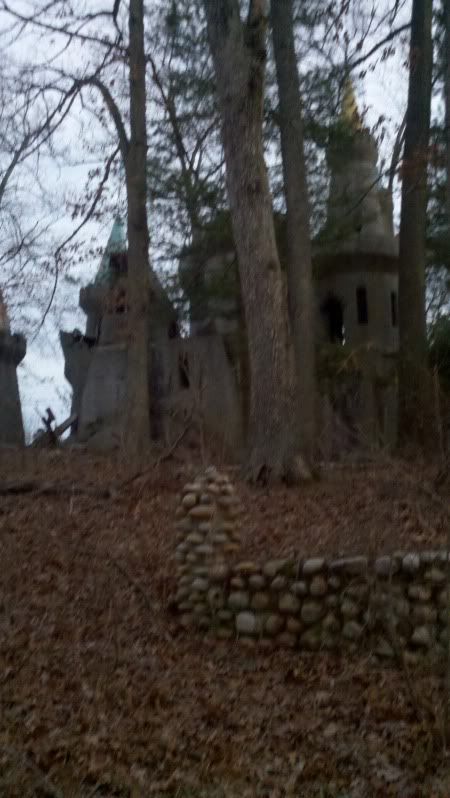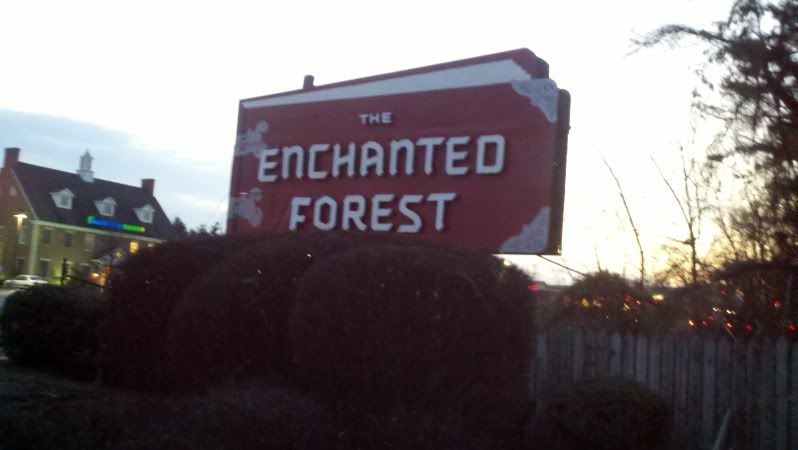 It was fun
exploring
trespassing, we did no damage, just walked about and took some pictures. My fiance walked in the castle area, took one picture, then walked out and said "It sounded creepy in there." Afterward went to a pet store to get stuff for our babies and then headed home to sleep.
On Monday, my fiance and I headed back to Ellicott City to an italian restaurant called Stella Notte. Looked for a giant squirrel statue he said was in someones front yard but we did not see it, I was really hoping to see a giant squirrel statue, perhaps it was never really there...
I honestly cannot remember what else we did on Monday, oh except I went with my mom to take my 14 year old sister to school, I couldn't resist embarrassing her as we dropped her off in front of school. I dangled out the car yelling "HAVE A GOOD DAY" at her and her friend. My mom got a real kick out of it, I was almost completely dangling out of a moving vehicle, ah what a girl will do to embarrass her little sisters. Monday night we drove back home.
Tuesday we went to Guapo's and did a little shopping at World Market. I got a bottle of Moscato wine, a black birdcage candle holder, and a matroyshka measuring set.
I bonded with Rex, the all white blue eyed angora that my family recently adopted. He kept wanting to sleep in my lap and meowing for my attention, it was really sweet. I forgot to take a picture of him. The kitten, Piglet, went to the vet to get neutered on Monday - and I hear it went well.
I keep meaning to do an OOTD post but I keep forgetting, I will get to it eventually. The weather has been so up and down lately. I like the warmer weather of course but I wish it would just kind of stay consistent.
I have really good news, my fiance and I are another step closer to being in our own place. After some finance stuff is taken care of, we will be on our way. I'm so excited! I cannot wait!
As my usual sign off I will post pictures of my babies.
Ginger, the family cat.


Hero and Halo looking like cyborgs.
Favorite Blogs


Blog Archive