Friday, February 25, 2011
Old Navy Heaven - 2/25
by
honeysuck_elle
featuring an
old navy cardigan
So yes, I quite enjoyed myself at
Old Navy
today. They had a lot of really cute Spring colors and patterns. One of my favorite and unexpected choices was the hot pink dress, I typically don't like the frayed look but I just love the pattern and it is quite flattering on. I'm debating whether to go back for the gray cardigan, it was super comfy and hung well on my body. They had it in black as well - decisions. I don't think you can ever have enough cardigans. I had been searching for the perfect blue and white striped shirt, I didn't actually choose the one I put in the collage but I couldn't find the one I bought. The one I bought is 3/4 length and I love the way it hangs. The white eyelet is gorgeous, I've had a white eyelet skirt before that I loved (received many compliments over) but it doesn't fit quite as well as it use to. I really liked this one but it was a bit snug around my hips. The floral print shirt, which they also have in polka dot prints, was pretty cute but my boobs were not having it. It didn't look too bad on but it was a little long and kept trying to bunch around the bewbies. I was reluctant to try on the black eyelet dress but it was quite adorable on, a little revealing though. I had a hard time choosing between the dresses but I figured I should go with the more unique one. Lastly but not least, the coral rose colored tank top, these are some of my favorite tank tops at Old Navy and the color is so lovely. This is such a long explanation, just head your butt over to Old Navy, they have some awesome deals and things right now.
Besides that, the dvds I found were: Anger Management, E.T, Failure to Launch, and The Ring. I was a bit embarrassed to buy The Ring but I really enjoyed the movie when it first came out and it was only $1.95. The cds I bought were Empire Records Soundtrack, Gladiator Soundtrack, and one more that I'm too embarrassed to mention so it shall remain forever a secret. Oh and I found a Laurie Notaro book, I just love her, she is so relate-able and absolutely hysterical.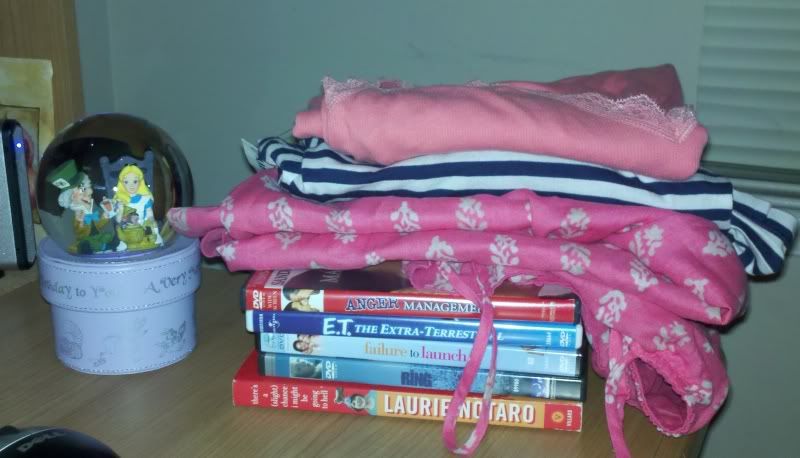 New! The Alice in Wonderland snow globe is an early Birthday present from my friend Summer.
Favorite Blogs


Blog Archive