Wednesday, June 15, 2011
'Ello, 'Ello, Ow, Ow- my side is giving me grief this morning. I was tossing and turning in bed for hours in between some very vivid dreams, a good 3 of them that I recall.
Saw '
The Pirates of the Caribbean: On Stranger Tides
' and '
The Hangover 2
' recently. I absolutely loved the mermaids in Pirates, fierce hissing merladies.
I wanna be a mermaid mama', my hair is long enough now
. I don't quite have the mer figure going on but *scoff* a girl can dream to one day be a chubby, enchanting mermaid.
Mer "I'm gonna cut you" face
Of course, Ian McShane rocked it, one fabulous actor right there. To be honest I was a bit disappointed in 'The Hangover 2' it basically had the exact same premise as the first movie just different location and different cast member getting married. It was somewhat amusing but not nearly as funny (in my opinion) as the first.
I have done a lot of window shopping online lately. It is fun but a bit frustrating because I can't buy any of it.
City Chic
and
Monsoon
have stolen my affections at the moment. Even though, I am well aware that I have enough clothes already.
Top
$48 - citychiconline.com
One of my staples in my bra community, yes I have a community of undergarments (I don't), broke last night. I had a funeral for it (I didn't, all these liessss honeysuckelle), I have been aware for a few months now that I need some new bras but I need to get professionally measured once again and I don't really trust most places. I worked at Lane Bryant before and there is no real training when it comes to the measurement and I want to know for certain that I have the correct bra size on. I'm somewhere between a DDD to F cup, it is next to impossible to find my size. Anyone have any recommendations in that arena? I'm desperate. I want something preferably cute, comfortable, and that doesn't show in everything. My one bra shows in everything, it would show in a flippin' turtleneck (not really). This is probably too much underwear information, deepest apologies.
Wow, I thought I wouldn't have anything to talk about... mmmhmm, chatterbox.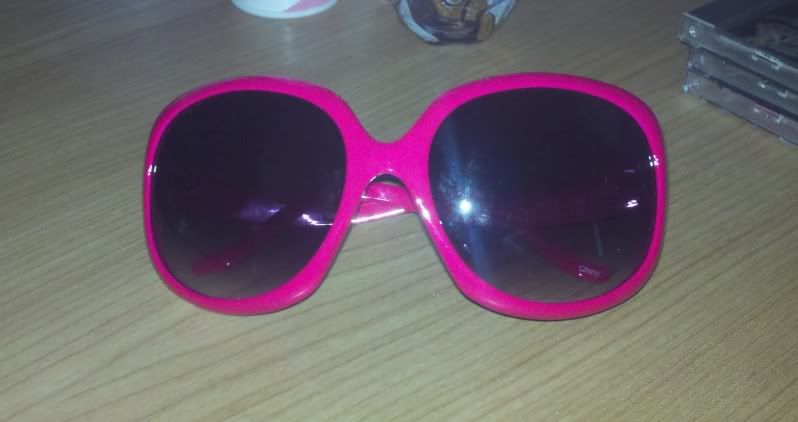 So my sunglasses arrived from
Domino Dollhouse
. They arrived within four days of me placing the order, super quick delivery and I really love the color! They are a bit big but I really love them. I could not be happier. I'm really looking forward to the Make Out Circus collection.
I swear I'm almost done with my chatter. Two more things, just two more! I'm really into
Oddities on The Science Channel
lately. I want to visit that shop one day, I have set the goal. Now I have to say, I'm not into taxidermy at all, I heart animals too much and don't like to think of them dead but I do like odd stuff.
Last but not least, I set out to take pictures of my outfit a few days ago and
mission: failed
. I did however take one picture I thought I'd share with you so you can get a broad (very broad) idea of what I was wearing that day.
Green tank: Target
Striped cardi: Target
Black bead necklace: Claires
(in background) Glitter explosion purse: Forever 21
Onto the picture, now my hair is in need of a touch up but my favorite hair stylist just had a baby and is on maternity leave for another month. I took several pictures but this was the only one I ended up keeping and still there is a runaway hair that decided to be a punk and spoil the picture. Mind the clutter in the background. I also had on some green earrings that were a gift several years ago, a black lace and ribbon skirt from a family owned shop in a local mall, and my staple of black flip flops. The cardigan gets on my last nerve because it falls off my shoulders constantly but I'm a sucker for stripes. I know this picture isn't the best but it is something. Baby steps, I admit I am a bit insecure when it comes to taking pictures. Not sure what the plan is for today, hope everyone is well.
Favorite Blogs


Blog Archive